Impact & Awards
Impact
These are just some of the many victories we have achieved thanks to our donors. The list is growing every day!
We have been successful in getting the state administration, autonomous communities, Congress and the main political parties to adopt improved transparency measures.

We have revealed the more than 10,000 pardons that have been granted in the last 20 years. Pardons now come at a political price.

After investigating more than 8000 contracts for public works to uncover the principal beneficiaries, today we push for better transparency in public procurement.

We have channeled thousands of requests for information from people like you to public institutions, and we are keeping up the pressure to get them to respond.

With the support of thousands of signatures, we have managed to prevent the Royal Household, political parties, trade unions and management from being exempt from the Law on Transparency.

We uncovered the names and salaries of the government's temporary advisors. We continue to push for this information to be made public.

We successfully lobbied for the government of Catalonia to include allocation of institutional advertising to various publications in their Law on Transparency.

Our proposal for access to senior officials' work and meetings schedules has been taken on board by the Transparency Council, the Madrid City Council and other authorities.

We have condemned and helped to halt institutional advertising campaigns which were nothing more than illegal exercises in self-glorification. Laws are made to be enforced.

We were able to persuade the Senate to stop hampering the indexing of key information about senators, e.g. their links to private business.

We brought to light, in the first great map of power and Spanish public institutions, over 6,800 verified links between businesspeople and politicians.

We created and analyzed the largest database on forest fires in Spain, which is now the main source of data on this scourge.

We have shown, through investigations, that eight out of every ten euros that pharmacists spend on doctors are opaque. And we keep unravelling more.

More than 2,000 users, including around twenty media outlets, use our Onodo tool to tell stories with complex data, e.g. on corruption.

More than 17 million citizens can now learn what policies their taxes are spent on because we have made the budget management of various authorities understandable.

We respond to hundreds of inquiries from citizens, journalists, administrations, NGOs and universities every year, the majority of which seek access to public information or a better understanding of this.

Every day more and more publications re-use our reports: we practice public service journalism to answer the questions w're all asking ourselves.

Thanks to all of these efforts, today we are a nationally and internationally award-winning organization.

Almost one million people per year learn through us about public administration and the decisions that affect us all.
Awards
Civio is an organization which has been recognised for its journalistic investigations and its innovative use of technology. The following is a list of the awards we have received to date:
Data Science Awards Spain 2018 - Best Data Journalism Investigation 2018
Awarded to Medicamentalia - Contraceptives, a global investigation into access to contraceptives around the world.
Second Albert Jovell Award for Excellence in Health Care Journalism 2018
Conceded by Janssen y and Cátedras en Red for Medicamentalia - Vaccines, a global investigation into access to contraceptives around the world.
Shortlisted - Best data journalism team 2017 in the Data Journalism Awards
Small newsroom (keep reading).
Second prize - II Transparency, Integrity and Fighting Corruption Award 2017
Conceded by Consejo General de la Abogacía Española and Transparency International Spain (keep reading).
Gabriel García Márquez 2016 Award - Journalistic Innovation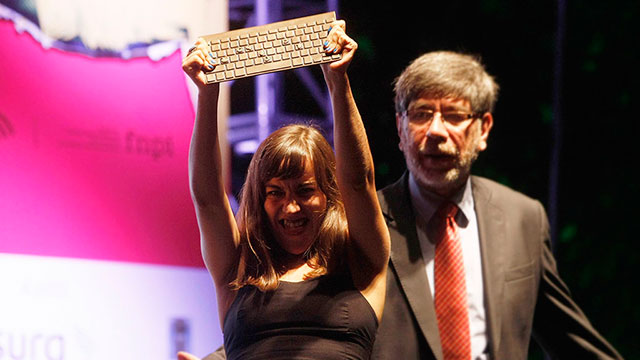 Awarded for Medicamentalia, to Civio, by the Fundación Nuevo Periodismo Iberoamericano (FNPI). This is the most prestigious international prize for Iberoamerican journalism, and in which over 1600 entries competed (read more).
Data Journalism Award 2016 - Best Investigation of the Year (small newsroom)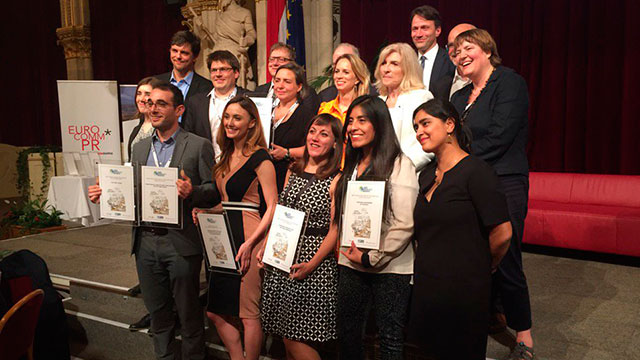 The Global Editors Network presented an award to Civio for Medicamentalia among 471 entrants from over 50 countries. In other categories, winners included highly-esteemed media outlets such as ProPublica, La Nación Data, Buzzfeed News, FiveThirtyEight, Al Jazeera America, Quartz and the entire team behind the Panama Papers (read more).
APM Award - Best Young Journalist of the Year 2015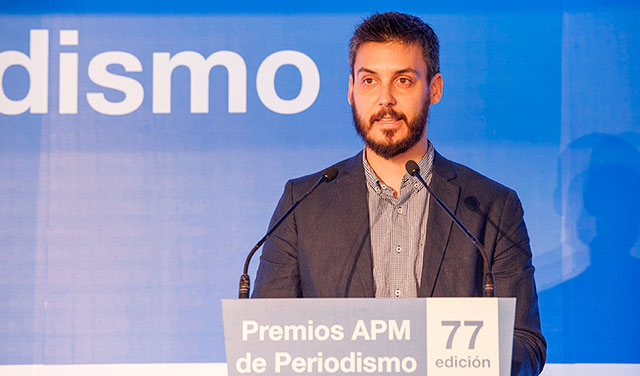 The Madrid Press Association awarded Miguel Ángel Gavilanes, Civio journalist, for "uncovering the breaches perpetrated in the management of Public Administrations" (read more).
iRedes Awards 2015 in the 'institutional' category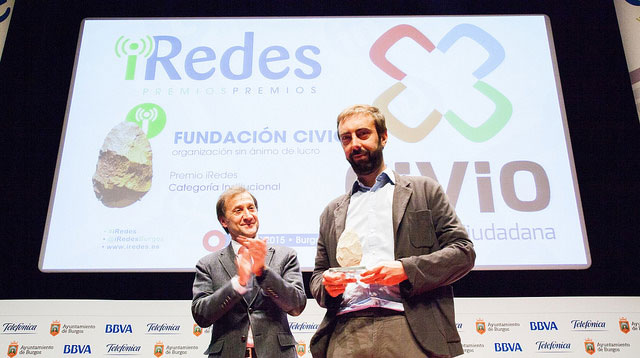 The Ibero-American Congress on Social Networks awarded Civio for "putting technology at the service of citizen participation and the transparency of institutions" (read more).
Global Impact Competition 2015
Winners, in the name of our president Jacobo Elosua, of the Global Impact Competition 2015 in Spain, which awards innovative projects that, by harnessing technology, respond to large global challenges (read more).
OKFN Award - best non-public transparency initiative 2015
Awarded for the Spanish installment of the Open Knowledge Foundation for Our Daily Official Gazette (compartido).
Official selection - Gabriel García Márquez Award 2014
For Spain in flames, our investigation into forest fires.
Nº 1 in the Innovative Journalism Ranking 2014 from the UMH
Chosen by experts at the University Miguel Hernández (UMH) in Elche, Civio, El Confidencial, Vis-à-Vis, eldiario.es and Acuerdo were named the 5 most innovative journalism initiatives that year.
OKFN Award - Best non-public transparency initiative 2014
Awarded for the Spanish chapter of the Open Knowledge Foundation (read more).
Cibervoluntarios Award - Best Empowerment initiative 2013
Award for the Best Empowerment Initiative 2013 for putting innovation at the service of citizens, awarded by the Cibervoluntarios Foundation (read more).
None of this would have been possible without Civio's collaborators. Want to join?