Who are we?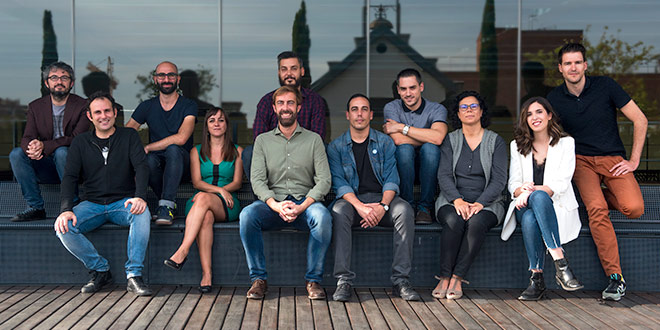 We are a multidisciplinary group of people who want to contribute to the improvement of democracy in our country. We specialize in information analysis and journalism, software development and design, communications, institutional relations and business development.
Team
MSc in Software Engineering and BA in Psychology, David founded Civio in 2012, and currently serves as Executive Director and lead developer. For 12 years he worked as a consultant, developer, and software architect for companies such as British Telecom, HM Revenues and Customs, Accenture, Ericsson and BBVA Global Markets. He is an expert in open data, public data analysis and budget data, among other fields.
David also lectures on the post-graduate courses offered by Spain's leading media (El Mundo and El Pais), as well as in numerous workshops and conferences related to civic technology and data journalism. Before founding Civio, David co-organized the largest open data hackathon in Spain, Desafio Abredatos, launched the pro-transparency initiative #adoptaundiputado and collaborated with investigative journalists on the extraction and analysis of public data (Looting the Seas, ICIJ). He has also worked with Access Info Europe and mySociety in the development of the European web portal AsktheEU.org.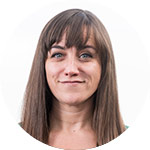 Journalist and Head of Projects
Graduate of Journalism from the Universitat Autònoma de Barcelona. She came to Civio after eight years in the editorial department of El Mundo in Barcelona (2004-2012). Eva Belmonte designs, develops, and monitors all of Civio's investigations.
An expert in the analysis and treatment of public information, she is author of the project El BOE nuestro de cada dia, in which she synthesises, on a daily basis, the Official State Gazette, informing us about how the decisions made therein affect us; she has published the book Españopoly (Ariel, 2015) in which she describes and documents how Spain's power structures function. She is also Professor of Investigative Journalism and Data on various official Masters. She loves Westerns.
Holding a degree in Journalism from the University San Pablo CEU, Master in International Relations and specialized in Communications, Javier is responsible for the development and implementation of the organization's communications strategy. He has worked as a corporate communications technician for the Zed Group and as a journalist at the Spanish Economic and Trade Office in Düsseldorf (Germany), Turespaña and the State Society for Innovation Management and Tourism Technologies. His career in journalism began at the Diario de León in 2001.
Web Design and Development
BS in Telecommunications, specializing in sound and image, from the Universidad de Castilla-La Mancha, as well as Master of Digital Arts from the Universidad Pompeu Fabra, Raúl is in charge of front-end development and the coordination of graphic design for Civio's projects. His spent most of his career in Barcelona, in studios such as Pulpolab, THD/Coated and Welovecode, and in recent years he has worked as a freelancer for various agencies, professional entities and clients.
A graduate of Journalism from the University Complutense de Madrid, after three years studying Aeronautics. Miguel Ángel joined Civio in February 2015, after 6 months apprenticeship at El Mundo. Specialized in investigative and data journalism, he develops content for projects such as Quién manda?, Tu derecho a saber, and Medicamentalia. He also delivers lectures on Civio's courses on data handling and supports the team with multimedia tasks such as photography and video editing.
Amir Campos
Institutional Relations and Partnerships
BA in German and specialized in Translation and Interpretation, with a Masters in International Relations from the Universidad Complutense, Amir has worked mainly in the field of international cooperation and development. He has worked for the Spanish Embassy and the Spanish Agency for International Cooperation in Indonesia, for the Ministry of Foreign Affairs in Madrid and Egypt, and at the Club de Madrid.
At Civio, he is responsible for the management of international projects and strategic partnerships with national and international institutions to ensure the organization's financial sustainability, besides collaborating on our public advocacy policy.
Sonia Pérez Hernando
Business Development
Sonia graduated from Political Science and Sociology, then studied a postgraduate in market investigation and public sector consultancy. She has worked in the fields of social research and public sector consultancy, first as researcher and technical director, then as head of business development. Since 1999 she has worked for various universities (South Bank University London and Universidad Complutense de Madrid) and private businesses (Consultrans, Adecco Group, D'Aleph, GPI Consultores, among others).
Since 2008 she has specialized in helping organizations from different fields (consultancy, open data, social media, social investigation and markets) to develop their public sector side of the business. She has also delivered various course on sales, management of sales teams, market research, and management skills. At Civio, she is in charge of developing our business relationships with the public sector, particularly on the roll out of the commercial release of ¿Dónde van mis impuestos?, as well as coordinating the delivery of our services.
Eduardo Sebastián
Web development
Eduardo is a back-end developer and is responsible for the interior architecture of Civio's projects. Throughout his career he has worked in roles such as programmer, software architect, technical leader and consultant at companies such as Indra, Geabone (co-founder), Phidelium (partner), Tagloo and Altiora. Eduardo has been a visiting lecturer at the Universitat Politècnica de València and research assistant at the Universitat Jaume I.
In Valencia, where he lives, he has worked on the launch of open initiatives such as Devscola or the slack group ValenciaDevs, he collaborates with communities such as Valencia.rb or Valencia Startups and actively participates in the VLC TechHub.
Diego Arce
Marketing and donor management
Diego has over 10 years of experience in marketing consultancy, advertising and communications, as well as the development of numerous projects in sectors such as education, tourism, technology, arts or culture. A graduate of Advertising and Public Relations, he also has a Diploma in Philosophy from the University of Navarra. He went on to study a postgraduate course in Marketing at ESIC.
María is a journalist specialized in investigation, data and visualization with a Masters from El Mundo newspaper and the Universidad Rey Juan Carlos. She is completing her apprenticeship at Civio as part of her course. She previously worked in communications for companies such as Ferrovial Servicios - Internacional, and Bosch, as well as completing an internship at the Office of International relations at the Universidad Carlos III de Madrid. She graduated from Journalism from the same university, with an Erasmus grant for Lancashire Central University (Preston, UK) and has an international scholarship at the University of New South Wales (Sydney, Australia).
Collaborators
In charge of España en llamas
Marcos is an investigative journalist for El Confidencial and a member of the International Consortium of Investigative Journalists (ICIJ). At Civio, he manages journalistic investigations for the project Spain in flames. He previously coordinated Unidad Editorial and the Rey Juan Carlos University's Master's Degree in Investigative, Data and Visualization Journalism. Since 2000 he has been working with the media and in journalism and academic research projects. He is author of several books, such as Vidas rotas (2010) or El 11-M in the Arab press (2004).
Collaborator on España en llamas
Hugo is a journalist at El Mundo Data, the data unit of the newspaper El Mundo. A former intern at Civio, Hugo is an indispensable collaborator on España en llamas and, in addition to data journalism, has a lot of experience writing… code. A technical engineer in computer systems who graduated from the University of Alicante, his true passion is storytelling. He delivers specialized training on the Master's program in Research, Data and Visualization Journalism by Editorial Unit and the Rey Juan Carlos University and himself studied Journalism at Carlos III University in Madrid. Swayed by the benefits of transparency and the reuse of data, his focus is on the use of technology to develop applications that allow these to be structured and generate knowledge.
Development of España en llamas and El indultómetro
Juan is a developer of news apps at NPR, the US public radio, in Washington DC. He was formerly a Knight-Mozilla fellow at La Nación Data, in Argentina. A telecommunications engineer by trade, he has worked for years as a freelance developer with expertise in data analysis and visualization. He has collaborated with Civio on the projects España en llamas and El Indultómetro and formed the autonomous part on the project ¿Dónde van mis impuestos?. He has participated in several openData initiatives in his dedication to fostering a new form of government, one which is more transparent, audited by the people.
Iurismática
Advisory Services for Laws on New Technologies
Iurismática is a law firm specialized in New Technologies laws. It works to overcome the challenges posed by technology and the internet - without overlooking the social side, thus contributing the knowledge accumulated by its members for the benefit of society in general. The firm collaborates with Civio by lending its experience to advise the team on legal issues - intellectual property, privacy, protection and the reuse of data… - linked to our projects.
Trustees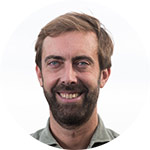 Jacobo Elosua
Founding Trustee and President of Civio
The entrepreneur behind projects with a marked social angle such as Iris AI and Civio. After starting his working life at UBS Investment Bank where he became Executive Director, Jacobo returned to Spain in 2005 and has been involved in a large number of projects related to digital technology and citizen activism. Prior to co-founding Civio, in his civic role he participated in Citizens' Teams, Pro Bono Publico, Open Data of Spain, Cambiemos la Ley Electoral and Voota - an association that developed an innovative open platform to allow citizens to digitally connect with candidates and elected officials.
Jacobo has three degrees, in International Business Administration by ICADE (E-4), and in Economics and Law by UNED. In 2015 he was selected and received a scholarship to attend the Graduate Studies Program at Singularity University, at NASA Ames. Jacobo was born in Vigo in 1974 and apart from his native Spain, he has lived in the US, UK, Ireland and Germany.
David Cabo
Founding Trustee and Executive Director
BS in Computer Science and BA in Psychology, David founded Civio in 2012, and currently serves as Executive Director and lead developer. For 12 years he worked as a consultant, developer, and software architect for companies such as British Telecom, HM Revenues and Customs, Accenture, Ericsson and BBVA Global Markets. He is an expert in open data, public data analysis and budget data, among other fields.
David also lectures on the post-graduate courses offered by Spain's leading media (El Mundo and El Pais), as well as in numerous workshops and conferences related to civic technology and data journalism. Before founding Civio, David co-organized the largest open data hackathon in Spain, Desafio Abredatos, launched the pro-transparency initiative #adoptaundiputado and collaborated with investigative journalists on the extraction and analysis of public data (Looting the Seas, ICIJ). He has also worked with Access Info Europe and mySociety in the development of the European web portal AsktheEU.org.
Helen Darbishire
Boardmember
A human rights activist with more than 20 years experience in promoting the right to access information at an international level, Helen has helped in the drafting and implementation of Access to Information laws in Europe, Latin America and Africa. Prior to founding Access Info Europe in 2006, Helen worked with Article 19 (London and Paris, 1989-1998) and the Open Society Institute (Budapest and New York, 1999-2005), and has acted as an advisor to several intergovernmental organizations, including UNESCO, the Council of Europe, the OSCE and the World Bank. She is the founder of the transnational organization Freedom of Information Advocates Network, which she directed from 2004 to 2010. She has a BA in History and Philosophy of Science from the University of Durham, UK.
François Derbaix
Boardmember
A Belgian entrepreneur based in Madrid since 2000, Françoisis an investor in web startups. An active defender of transparency, he believes that the best way to reform governance is to make conflicts of interest public, and to prevent corruption. In 2009 he was one of the creators of the Voota association (now defunct), among whose goals featured the promotion of citizens'; participation in politics, the strengthening of democracy in Spain, and the renewal of Spain's current political system.
Derbaix graduated in Management Engineering from the Catholic University of Louvain and co-founded the holiday rental sites Toprural (2000) and Rentalia (2003), which were sold in 2012 to HomeAway, global market leader in the sector, and idealista.com respectively. Currently he participates in more than 15 initiatives, among others: 11870.com, Vinogusto.com, SeedRocket, the Internet Investors and Entrepreneurs Association (AIEI) and the venture capital fund Bonsai Venture Capital.
Rodrigo Tena
Boardmember
A notary of Madrid by exam, Rodrigo has served as an associate professor of Civil Law at the University of Zaragoza, Visiting Lecturer of Civil Law at the Universidad Complutense de Madrid and associate professor of Documentary Law at the Juan Carlos I University of Madrid (2000-2001). He is an editorial board member of the magazine El Notario del siglo XXI, patron of the Matritense Foundation of Notaries and the Coprodeli Foundation. He has published a large number of works (monographs, articles in specialized journals, jurisprudential publications, etc.) both in Civil, Mercantile, Mortgage and Notarial Law, alongside regular contributions to the newspapers El País, El Mundo, Cinco Días, Expansión and the magazine Claves de Razón Práctica. He is the author of the essay Ocho minutos de arco - Essay on the Political Importance of Moral Archetypes, published by Antonio Machado Books. He is co-editor of the blog ¿Hay Derecho?, was a member of UPyD's board of directors, and provides technical advice to the Ciudadanos party in the ambit of ​​Justice.
Javier de la Cueva
Boardmember
Javier holds a degree in Law and a PhD in Philosophy from the Universidad Complutense de Madrid, and works as a lawyer. He has served as defense on numerous cases related to the use of licenses which are free from intellectual property rights, and of different technological platforms. He is a Professor of Intellectual Property on the Musical Creation degree course at the European University of Madrid, and of Information Law: Media Regulation on the Bachelor's Degree in Communication at IE University.
Alongside his work as a lawyer, he is currently busy planning various technological projects, lecturing and writing about his specialization. He has been a GNU / Linux user since 1998 and has been a system administrator for the operating system since 2003. He writes his scripts in Python and enjoys n3 notation for modeling semantic web ontologies.
Advisory Board
Nathaniel Heller
Nathaniel is Executive Director at the Results for Development Institute, where he is responsible for the Good Governance program. Prior to joining R4D, Nathaniel co-founded and led Global Integrity, an NGO that adopted rigorous research and new technologies to foster transparency, good governance, anti-corruption and accountability. He was also one of the drivers of the OpenGov Hub, the first open co-working community among Open Government specialists, based in Washington DC and Kathmandu, Nepal. Previously, Nathaniel worked for the State Department, was a fellow of the Center for Public Integrity, and advised Senator Edward Kennedy on foreign policy.
With a degree in International Relations and Spanish Literature from the University of Delaware, and an MA from the School of Foreign Service at Georgetown University, Nathaniel is currently the representative for civil society on the Executive Committee of the Open Government Partnership.
Víctor Lapuente
Victor Lapuente holds a PhD in Political Science from the University of Oxford and currently teaches and researches at the Government Quality Institute of the University of Gothenburg (Sweden).
His main interests are the analysis of public policies, the operation of administrations from a comparative point of view, and the causes and consequences of corruption. He advocates a thorough approach to these topics, one strictly based on data and evidence. He often writes about these subjects in publications such as El País.
Luis Martín Cabiedes
Luis Martín Cabiedes is one of Spain's leading investors specializing in technological companies in the launch phase. With his vast experience and broad portfolio of operations, he is an icon in the field. First as 'business angel' and later on with his own venture capital fund, Cabiedes & Partners, Luis has invested in over sixty Internet and technology firms, from Privalia to Blablacar, Trovit and many more.
Since 2008, Luis has been a part-time professor at IESE, where he teaches Entrepreneurship and Business Finance. For 12 years he co-chaired the Europa Press Group, which he joined in 1989. He has a degree in Philosophy from the Universidad Complutense de Madrid, an MBA from IESE, and is an accredited financial analyst of the CFA Institute.
Momi Peralta
Angélica -Momi- Peralta Ramos (@momiperalta) is from Argentina and heads the Multimedia Development and Data Journalism unit of the prestigious newspaper La Nación. Her work in the specialized field of data-based research is internationally recognized and has been repeatedly awarded.
Momi is in charge of leading the transformation of La Nación into a multiplatform outlet, fostering innovation in digital formats, as well as areas of journalistic coverage with mobile devices, social networks and the specialized data unit (LNData). In this respect, Momi plays a key role in the internal training of newsrooms, the development of news apps (such as Open Affidavits, VozData or the Argentine Census Project) and collaboration between data journalists, open data platforms and community transparency.
Momi holds a degree in Systems (CAECE), a Master's Degree in Business Administration (IAE Universidad Austral), and a postgraduate degree in Project Management (UBA).
Chris Taggart (OpenCorporates, UK)
Chris Taggart (@countculture) began his career as a journalist and editor on UK magazines. His move to consultancy and activism in open data and financial economic transparency began with OpenlyLocal, a platform to make local government data more transparent and accessible. Later, Chris founded OpenCharities with the aim of opening data for NGOs and charities. In 2010 he created OpenCorporates, his flagship project: the largest open database in the corporate world, with information on nearly 85 million companies in more than 70 jurisdictions.
A world-leading international expert in economic-financial transparency and accessibility of trade registers, Chris collaborates via OpenCorporates with governments and institutions, such as the World Bank, to increase the opening of corporate data and the quality of this. His database is a go-to resource for both journalists and researchers of the corruption phenomenon, as well as banking and the world of finance. Chris also advises governments on transparency, and was the driving force behind the Open Election Data Project.