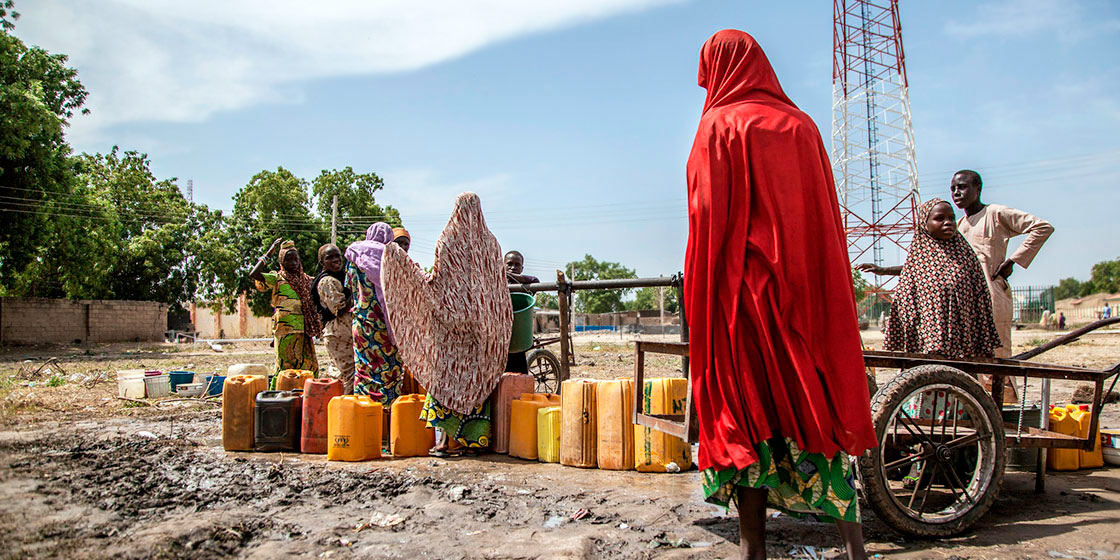 Unicef, Norway
The struggle to get vaccinated in Nigeria's displaced persons camps
In the northeast region of the country, where these camps are located, 80% of Nigerian children have not been vaccinated.
This investigation is a partnership with the African Network of Centers for Investigative Reporting, as part of the Medicamentalia Vaccines project.
It is a hot Saturday, Modu Sheriff is seated under a tree to shield him from the rays of the blistering sun in Borno state, Nigeria. He immediately volunteers to be interviewed as soon he is asked if his kids have been immunised. It is a tale of need he desperately wants to share. "My kids have never been vaccinated," he says in Hausa –one of the languages spoken in Nigeria–. "Most of the children here have not been vaccinated". Modu is originally from Konduga, Borno state, but the Boko Haram insurgency that ravished the state has left him internally displaced.
Together with his two wives and 10 children –the youngest being three months old and the oldest, 15–, they camp in one of the host communities, Galtimari, which is at least three kilometres from the main camp of the internally displaced persons (and close to Giwa Barracks, the barracks for the army).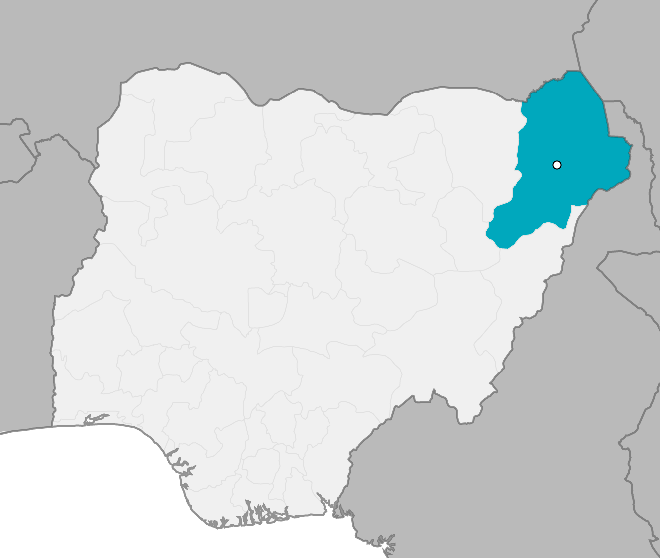 According to the National Immunisation Coverage Survey (NICS), conducted by the National Primary Health Care Development Agency (NPHCDA), 77% per cent of Nigerian children have not been fully immunised. In the north east, where Borno is situated, the number rises to 80%. This is due to two main reasons: far away immunisation centres and unnoticed visiting of WHO people to the displaced people camps; which draw an even difficult situation for many families who are already struggling.
"There are no nearby outposts where I can take my kids to vaccinated," Modu says. Chika Offor, executive director of Vaccines Network NGO, explains that if people do not have money and the distance from their abodes to immunisation centres are far, the chances of getting immunised diminishes. "I would take my children to vaccination centres if I could afford to", explains Modu.
At vaccination centres, caregivers are given cards to help track children's immunisation. But only one in three children in Nigeria have a vaccine card, the NICS report reveals. The report also shows that states with the lowest number of immunisation cards also have the lowest immunisation coverage.
The struggle to get medical assistance at the camp
It is a similar story for Ali Sheriff who is originally from Bama, Borno state. He now camps at Galtimari primary school, which is also far away from the main camp. Ali says it is almost impossible to get his children immunised even though he wants to. "The WHO people go to the main camp to give the children vaccines but they don't tell us when they are coming. When we hear, it is often too late. We hurriedly take our kids there, but they would have gone." Ali laments, this describing it as painful and a wasted effort.
Ali's wife, who prefers not to be identified, says she knows that vaccines are life saving. She says she wants to her children vaccinated but it is just impossible to get her kids to the centre. "Three months after I had my second child, I took the child to the hospital to take BCG and polio. I could not continue because the hospital is very far and before we get to the camp when the vaccinators come, they would have gone".
She had two of her kids in the camp. "There was no doctor to help me. It was a terrible struggle because I even had eclampsia" –a pregnancy complication characterised by convulsions followed by coma–, says Ali's wife. Although, this story is different with her eldest kid, nine years old, who was born before Boko Haram crisis. He was immunised, Ali says.
"I want the World Health people to come closer to us. Before they used to have small centres where we could go to get vaccines, but they do not exist any longer," Ali's wife says. "If they can create small centres that are close to us, we will take our kids there to get their vaccines".
Nigeria's National Primary Health Care Development Agency, the main agency responsible for immunization programmes, did not respond to enquiries regarding the distribution of vaccines despite several attempts to reach them. For now, the people in Galtimari camp residents stay unvaccinated, keeping faith that the next outbreak does not occur in their community. This, unfortunately, is more than keeping faith. There is an outbreak of cholera in the state that is fast gaining traction because of poor infrastructure, lack of clean water and overcrowding. At the last count, there were 2,627 cases of cholera with 48 deaths.