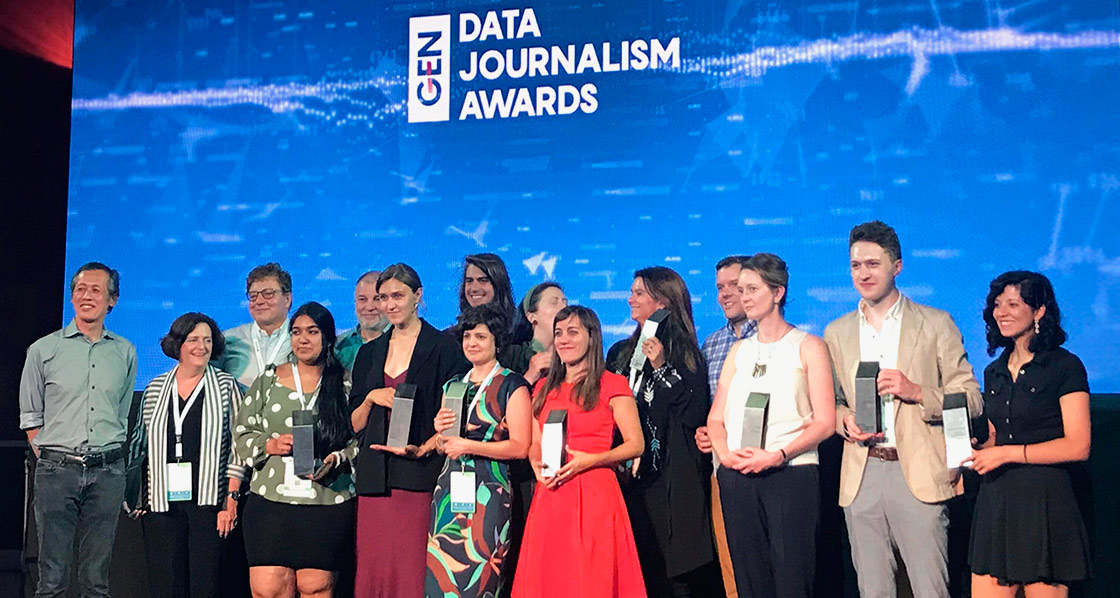 Civio wins its second Data Journalism Award, the most prestigious international award in the field
Eva Belmonte received last Friday in Athens the award for Best Individual Portfolio of the Year, following Medicamentalia's Best Investigation of 2016 award.
The jury of the Data Journalism Awards has granted Eva Belmonte, Civio's co-director, the Best Individual Portfolio of the Year award during the Global Editors Network Summit, held in Athens (Greece). This award is the most prestigious international recognition within the data journalism field.
With this recognition, Civio has earned its second Data Journalism Award since 2016, when Medicamentalia was awarded the Best Investigation of the Year (small newsroom). The award for Best Individual Portfolio recognizes the best selection of data-driven work by an individual, based on quality and innovation of data use and analysis, content, presentation, range of subjects covered and variety of approaches to data. 607 applications from 62 countries were submitted in this edition, 46 of them for Best Individual Portfolio. Within the same category, the competitors were Al Shaw of ProPublica, Shane Shifflett of The Wall Street Journal, Roberto Rocha of CBC News, Ashley Kirk of The Telegraph or Emily M. Eng of The Seattle Times.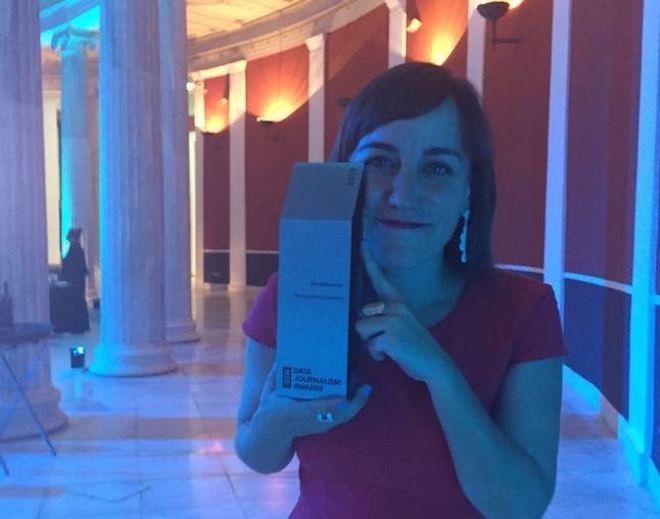 The jury recognized Eva Belmonte's daily scrutiny of public authorities that has driven relevant scoops such as the huge budgetary deviations of the Spanish Ministry of Defence, the pardons granted to persons convicted for corruption charges (along with David Cabo) or the analysis of electoral subsidies assigned to Spanish parties after regional elections.
Two examples of journalism as public service were also taken into account: a web-based app (designed along with Raúl Díaz) to help readers check if they could be recipients of social energy tariffs for vulnerable households and Eva's periodical updates of the price of the butane cylinder (established by the government) so citizens can know whether they are charged a price higher than the official one. Eva also led an investigation to shed light on the financial relationships between the pharmaceutical industry and Spanish doctors, revealing that 18 Spanish physicians received more than 50,000 euros from one single company in 2017.
The extraordinary honor associated with this award demonstrates that it is possible to produce world class journalism outside the large newsrooms and with limited resources.
All that we have accomplished, we have done so with the help of our amazing individual donors. With this in mind, we would kindly ask that you consider supporting our work by becoming one and help us make the kind of journalism that has brought us here: independent, non-for-profit and with the potential to continue spurring change.